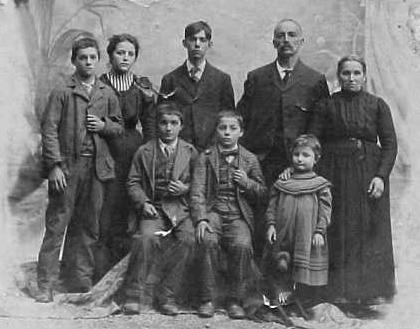 photo courtesy of Tony Dellamano
Family of Francesco Francis Dellamano in Perledo, Italy - around 1906

Back Row:
Emilio (1893), Adelaide (1887), Nicholas (1889), Francesco Francis Dellamano (1842), Teresa Maria (Borlenghi) Dellamano (1859)

Front Row:
Aristede (Harry, 1895), Peitro Battista (1897), Maria, (1902)

Note: Three of Francesco's children are missing from this photo. Antonio left for America in September of 1894. Mario went to America in December of 1901. Catterina entered the convent of the Dominican sisters of Saint Catharine, Kentucky in Sept. of 1903.

Nicola went to America in 1911 and Aristede went in 1912.

Francesco had two other children who died young.